Car Parks with Shuttle Service
Park and Ride is a great option for long term parking Charleston SC. You can easily reserve your spot, park your car, and then a free shuttle will take you directly to the doors of your terminal. Park and Ride car parks usually are the best option for inexpensive CHS parking rates.
Arrival: On the day of departure, simply drive to the address of the chosen car park. You can park your car here and you will then be taken to the airport as quickly as possible in one of the shuttle buses from the parking lot.
Return: On the day of return, after landing, contact the car park by phone, then a shuttle bus will be driven to the airport to pick you up and take you back to the car park.
*There is currently no option for car parking with shuttle service at Charleston Airport.
Car Parks within Walking Distance
Park and Walk facilities are located within walking distance of the Charleston Airport. You will need to find your own parking spot and bring your suitcases to the airport yourself.
Arrival: You simply drive to the car park. On arrival, enter your personal entry code and the barrier will open. You will receive this entry code as an attachment to your reservation confirmation.
Return: You walk back to the car park, get in your car and leave the CHS Airport car park using the same personal code.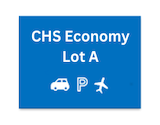 Economy Lot A
Economy Lot A is an official lot for Charleston Airport long term parking. Economy Lot A CHS is an uncovered surface lot located directly behind the hourly parking deck. It is accessed by walking through the garage and exiting on the backside, at the first floor. This lot offers discounted rates for extended stays and is a cost-effective option for travelers planning to leave their vehicles for an extended period.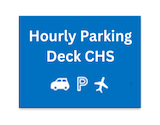 Hourly Parking Deck
The Hourly Parking Deck is one of the main parking garages and has two floors of covered parking and an uncovered third floor. Passengers can simply park and walk to the terminal in just minutes!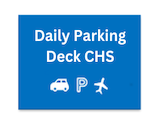 Daily Parking Deck
The Daily Parking Deck is another one of the main parking garages and has two floors of covered parking and an uncovered third floor. The parking garage is located adjacent to the terminal, providing easy access to the check-in counters. It is a convenient option for those who prefer covered parking or need quick access to the terminal.
Car Parks with Valet Service
Valet Parking is the most expensive option, although it is the best option if you are looking for convenience. Waste zero time looking for a parking spot or waiting for a shuttle. A valet attendant will take your car for you at the airport terminal and will park your car for you. Your vehicle will be waiting for you upon your return.
Arrival: You drive to the valet zone of the chosen car park and drop off your car here. After a short inspection you can make your way to the airport and a driver will ensure that your car is parked.
Return: You call the car park to indicate that you have landed again. Then walk back to the valet zone and the parking will ensure that your car is ready on arrival. These valet pick-up zones are a maximum of 3 minutes' walk from the airport.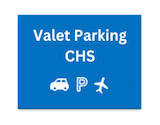 Valet Parking
Valet parking is a convenient parking option available at Charleston Airport (CHS) that offers a premium level of service and convenience for travelers. It's important to note that valet parking typically comes at a higher cost compared to other parking options at the airport. However, the convenience and time-saving benefits it offers can make it a worthwhile choice for those looking for a seamless travel experience.
More Information on Charleston Airport
Charleston Airport has experienced significant growth in recent years, reflecting the increasing popularity of the Charleston area as a travel destination. In 2021, CHS Airport served over 4 million passengers, marking a steady increase compared to previous years. The airport offers direct flights to various domestic destinations, including major hubs and popular tourist destinations. Charleston's growing economy and thriving tourism industry have contributed to the airport's increased passenger traffic. The airport continually works to enhance its facilities, services, parking and security measures to provide a seamless travel experience for passengers.
Terminals at Charleston Airport
Charleston Airport has a single terminal building that serves both domestic and international flights. The terminal is well-designed and offers modern amenities to enhance the travel experience for passengers. It houses various airlines and provides convenient access to all of the parking facilities.