Car Parks with Shuttle Service
Park and Ride options are very cost-effective and perfect for long term parking. PDX has several options to choose from that are safe, secure, and convenient. You will park at a parking lot off the airport property and a complimentary shuttle will drop you off directly at your terminal. You do not have to worry about searching for a parking spot in a crowded garage or walking a far distance with your luggage.
Arrival: On the day of departure, simply drive to the address of the chosen car park. You can park your car here and you will then be taken to the airport as quickly as possible in one of the shuttle buses from the parking lot.
Return: On the day of return, after landing, contact the car park by phone, then a shuttle bus will be driven to the airport to pick you up and take you back to the car park.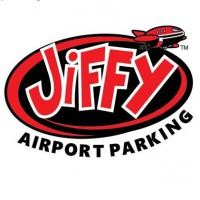 Jiffy Airport Parking
Jiffy Parking Portland is a popular choice among travelers for its competitive rates and excellent service. Their parking facilities are secure and well-maintained, offering peace of mind during your trip. Jiffy Parking Portland provides complimentary shuttle services, making your journey to the airport terminals quick and convenient.

Park, Shuttle & Fly
Park Shuttle & Fly offers convenient and secure parking options for travelers. With their affordable rates and reliable service, they strive to provide a stress-free parking experience. Park Shuttle & Fly provides complimentary shuttle services to and from the airport terminals, ensuring you reach your flight on time.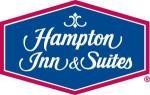 Hampton Inn & Suites Parking
Hampton Inn & Suites Portland offers parking options for both hotel guests and non-guests. Their parking rates are designed to provide convenience and value for travelers. Enjoy the benefits of their proximity to the airport terminals and take advantage of the hotel amenities during your stay.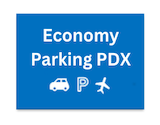 PDX Economy Parking
The PDX Economy Parking Lot is located near I-205 off of Airport Way. Free parking shuttles bring you to your terminal. The shuttle runs every 7-9 minutes (or every 15 minutes from midnight until 4:00 am), but it is uncertain how long the ride is to the terminal. Continuously running shuttles means you never have to wait more than 5 minutes for a shuttle. Shuttle drivers are there to assist you with your luggage.
Car Parks within Walking Distance
Portland Airport has two parking terminals within walking distance to the terminal. The parking rates for the garages are much more expensive than for Shuttle services.
Arrival: You simply drive to the car park. On arrival, enter your personal entry code and the barrier will open. You will receive this entry code as an attachment to your reservation confirmation.
Return: You walk back to the car park, get in your car and leave the PDX Airport car park using the same personal code.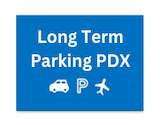 PDX Long Term Parking
PDX Long Term Parking Garage is a seven-story parking garage with over 3,000 parking spaces. Access to the terminal is through tunnels and moving sidewalks. It is approximately a 10-minute walk to the Departures terminal.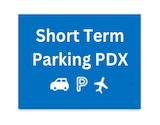 PDX Short Term Parking
PDX Short Term Parking Garage has 3,300 parking spaces. It connects to the terminal via tunnels and a skybridge on level 4 of the parking garage. It is approximately a 5-minute walk to the Departures terminal.
Car Parks with Valet Service
Valet Parking is the most expedient option, although it is also the costliest option. You simply drop-off your car either curbside at the terminal or at the entrance to the parking garage. Then, your car will be waiting for you when you return.
Arrival: You drive to the valet zone of the chosen car park and drop off your car here. After a short inspection you can make your way to the airport and a driver will ensure that your car is parked.
Return: You call the car park to indicate that you have landed again. Then walk back to the valet zone and the parking will ensure that your car is ready on arrival. These valet pick-up zones are a maximum of 3 minutes' walk from the airport.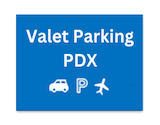 PDX Valet Parking
PDX Valet Parking is the quickest and most convenient option for PDX parking. You simply drop-off your car curbside at the Departure terminal and you are on your way. The valet parking is operated by Portland International Airport Parking services. The only downside is that this is the most expensive PDX parking option.
Portland Airport Terminals
PDX Airport handles a substantial number of passengers each year. The airport has experienced consistent growth in passenger traffic, reflecting the popularity of the Portland area as a travel destination. Portland Airport has one main terminal building and five commercial airline passenger concourses. A moving walkway, connects the airport's South concourses A, B, and C with the North concourses D and E.
The Main Terminal at PDX is the primary building that houses the ticketing counters, security checkpoints, baggage claim areas, and various passenger services. It is divided into two sides: North and South. The Main Terminal features a spacious and open design, with plenty of natural light and amenities for passengers. Below is some information about the different concourses:
Concourse A: Concourse A primarily serves Alaska Airlines and provides direct access to the Main Terminal. It offers a variety of dining options, retail shops, and comfortable seating areas.

Concourse B: Concourse B serves various airlines and is located adjacent to Concourse C. It features a range of amenities, including restaurants, shops, and lounges.

Concourse C: Concourse C primarily serves Southwest Airlines and is connected to Concourse B. It offers dining options, retail shops, and seating areas for passengers.

Concourse D: Concourse D serves a mix of airlines and offers a variety of dining options, shops, and seating areas. It is connected to Concourse E, allowing for easy passenger movement.

Concourse E: Concourse E primarily serves international flights and offers customs and immigration facilities. It provides a range of amenities, including duty-free shops, restaurants, and lounges.
The terminals at PDX are designed with passenger comfort and convenience in mind. Clear signage, well-lit spaces, and helpful airport staff ensure easy navigation throughout the airport.