Car Parks with Shuttle Service
Park and Ride facilities are usually located within a few miles of the airport and require transportation to the terminals. Most Park and Ride lots operate 24 hours per day and provide free shuttle transportation to the airport. As these parking lots are outside of the airport, they can offer more competitive parking rates, which is great for budget-conscious travellers. If you plan to park for a few days or more, you can often save over 40% on your Denver International Airport parking by finding a Park and Ride parking lot. It is straightforward and easy to park at a Park and Ride facility. Customers simply park their vehicle at the parking lot, check-in at the reception desk, and then take the shuttle to the airport. On the return, they take the bus back to the parking lot to collect their car.
Arrival: On the day of departure, simply drive to the address of the chosen car park. You can park your car here and you will then be taken to the airport as quickly as possible in one of the shuttle buses from the parking lot.
Return: On the day of return, after landing, contact the car park by phone, then a shuttle bus will be driven to the airport to pick you up and take you back to the car park.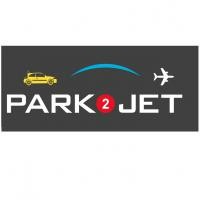 Park 2 Jet
Park 2 Jet DIA is one of the best options for parking at DEN. With their convenient shuttle service, secure facility, and excellent customer service, they are a great choice. Offering covered aand uncovered parking, valet style and self-parking services, you can find exactly what you are looking for at Park to Jet at DIA.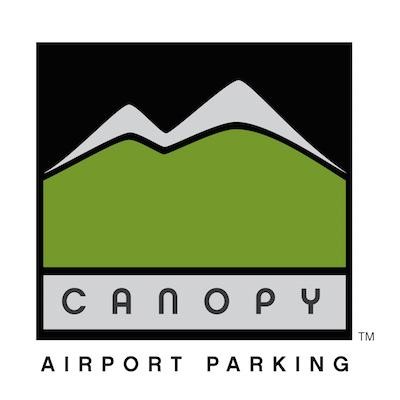 Canopy Airport Parking
Another great choice for Denver Airport Parking is Canopy Airport Parking. Canopy Car Parking is a trusted and reliable parking provider that consistently provides a hassle-free parking experience. Not only does Canopy Parking offer covered and uncovered parking, but they operate a shuttle that takes paassengers to DIA in just 12 minutes.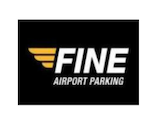 Fine Airport Parking
If you are looking for a convenient and friendly car park, then Fine Airport Parking DIA is the way to go. Fine Parking offers a range of services to assist customers with parking, detailing and assistance with getting to the airport. Their valet style parking makes the experience a whole lot easier when it comes to DEN Airport parking.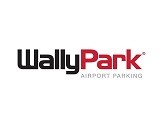 WallyPark DIA
Located across the street from the Pikes Peak Shuttle Lot, WallyPark DIA is an affordable and secure way to park near Denver Airport. It is an uncovered parking lot with large parking spaces. When you opt for self-parking at WallyPark Denver Airport, you will choose your own space and take your car keys with you. Courtesy airport shuttles depart every 5 minutes, 24h per day for your convenience. The transfer time to the airport is only 7 minutes, so you won't waste any time getting to your airline check-in. The parking area is secured by a gated entrance and a locked perimeter fence.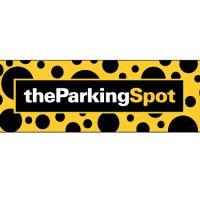 The Parking Spot DIA
Another great choice for car parks with shuttle service at DIA, is The Parking Spot DIA. The Parking Spot is a professional and reliable parking provider that guarantees a seamless travel journey as well as the safety of your vehicle. With the Parking Spot Denver, you just have to take the short shuttle to the airport and you don't have to worry about anything else, they've got it covered.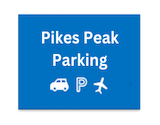 Pikes Peak Parking DIA
The Pikes Peak Shuttle Lot is another great option for parking at DIA, offering a complimentary 6-minute shuttle ride to the Denver Airport. The shuttles operates 24 hours per day and will take passengers to all the terminals at DIA. Please note that it is not possible to reserve a parking spot in advance.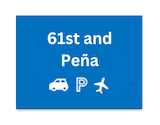 61st and Peña Lot
The 61st and Peña parking lot is located right at the Colorado A-Line commuter train stop. While, there is no shuttle or bus service from this parking lot to Denver Airport, you can easily take the train to the terminals at DIA in about 11 minutes. Please remember that Denver Airport does not guarantee parking availability at this lot and parking is given on a first-come, first-serve basis.
Car Parks within Walking Distance
Park and Walk facilities are very convenient because of their proximity to the airport, although typically much more expensive than Park and Ride lots. Most Park and Walk facilities offer self-parking, which means drivers will search for their own parking spot and keep their car keys with them. The Denver International Airport has two parking garages and two economy lots within walking distance to the Jeppesen Terminal. Depending on where you park, it will only take you 5 - 10 minutes to walk to your airline check-in counter.
Arrival: You simply drive to the car park. On arrival, enter your personal entry code and the barrier will open. You will receive this entry code as an attachment to your reservation confirmation.
Return: You walk back to the car park, get in your car and leave the DEN Airport car park using the same personal code.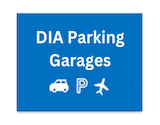 Denver Airport Parking Garages (East and West)
Located adjacent to the Jeppesen Terminal, the DIA Parking Garages are an easy 5-10-minute walk to the DEN Airport. Covered and uncovered parking is available throughout the five levels of the parking garage. Hourly parking is available on Level 4 (Arrivals), and daily parking is available on all other levels. As you pull into the garage, there are overhead signs displaying the current availability of the garage. The height clearance for the DIA parking garage is 8'0". Reservations for both Garage East and Garage West can be made at least one year in advance on the DIA website. However, there is a fee of $4.00 per day for making a reservation. Reserved parking spots are located at Garage East, Level 1 Rows A and B, and Garage West, Level 1, Rows K, L, and M. Electric charging stations are available on Level 1, Rows E and F.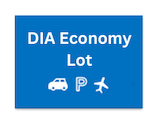 DIA Economy Parking Lots (East and West)
The DIA Economy Lots provide convenient access to either the West or East Terminals at the Denver Airport. They are located just beyond garage parking on the west and east side of Jeppesen Terminal. It only takes 10 minutes to walk to the terminals, but a free airport shuttle is also provided. The shuttles operate every 10 minutes, 24/7 and the journey only takes 7 minutes. The Economy parking lots are uncovered and accessible for oversized vehicles, making them a great choice for DIA car parking.
Car Parks with Valet Service
The valet service is very popular at Denver Airport because it is extremely convenient. When you enter the East or West Parking Garage, Denver Airport valet parking will be immediately available to your left. It is located on the arrival level (Level 4) or both the East & West Garages. You simply pull up to one of the parking garages where a valet team member will be waiting for you. Once you give them your car keys, they will park the car for you while you walk into the airport. Your car is parked under covered parking the entire time you are away. Contact the valet 15 minutes prior to your return so they can bring the car quickly. You can contact them through a call or text message. DIA Valet Parking is the most expensive option, but it is great for business travellers and short-term parking.
Arrival: You drive to the valet zone of the chosen car park and drop off your car here. After a short inspection you can make your way to the airport and a driver will ensure that your car is parked.
Return: You call the car park to indicate that you have landed again. Then walk back to the valet zone and the parking will ensure that your car is ready on arrival. These valet pick-up zones are a maximum of 3 minutes' walk from the airport.
*There are currently no options for valet parking at DIA Airport
More Information on Denver International Airport
The Denver International Airport (DEN), locally referred to as DIA, is your gateway to exploring the Rocky Mountain region. The beauty and majesty of the Rocky Mountains attract tourists from all over the world. As of 2018, DIA is the fifth busiest airport in the U.S. and the 20th busiest airport in the world. It is the largest airport in North America by total land area and the second-largest in the world. When Denver Airport opened in 1995, it served 32 million passengers. Today, that number has doubled to 64.5 million passengers each year, with the goal of expanding to 110 million passengers.
The crowds at Denver International Airport are large and the parking spaces are occupied accordingly. Therefore, it is a great idea to reserve parking near DIA at least one-month in advance. You can find great deals and discounts by comparing online with us today. Simply enter the travel dates above and you're ready to go! You can avoid unnecessary stress and start your journey relaxed.