Car Parks with Shuttle Service
Park and Ride is affordable and convenient for long term parking. Indianapolis Airport operates an official on-site economy lot and there are a few off-site parking lots with great parking rates. Each option has a complimentary shuttle that will bring you directly to the terminal.
Arrival: On the day of departure, simply drive to the address of the chosen car park. You can park your car here and you will then be taken to the airport as quickly as possible in one of the shuttle buses from the parking lot.
Return: On the day of return, after landing, contact the car park by phone, then a shuttle bus will be driven to the airport to pick you up and take you back to the car park.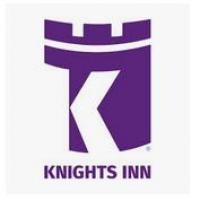 Knights Inn Indianapolis Airport South
For travelers who need to spend the night near the airport before their flight, the Knights Inn Indianapolis Airport South is a great choice. This package includes one night's stay at the hotel and parking for up to seven days. It's a great option for those who want to avoid the stress of getting to the airport on time and finding parking. Park and Ride shuttles provide complimentary transport to and from the airport. The shuttle driver will assist with your luggage.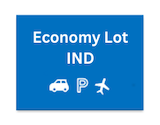 IND Economy Parking
Indianapolis Airport Economy Parking is located on airport property. There is a free airport shuttle to bring you to the terminal, but it is unclear how often it runs and how long the ride is to the terminal. Plan to arrive at the remote parking lot at least 15 minutes before you want to be at the airport terminal.
Car Parks within Walking Distance
There are two options for parking within walking distance of the Indianapolis Airport, the Terminal Garage and the Park and Walk Garage. Both are great options for parking at IND Airport, offering convenient parking services within waalking distance.
Arrival: You simply drive to the car park. On arrival, enter your personal entry code and the barrier will open. You will receive this entry code as an attachment to your reservation confirmation.
Return: You walk back to the car park, get in your car and leave the IND Airport car park using the same personal code.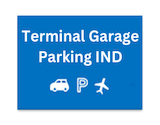 IND Terminal Garage
The Terminal Garage has three floors of covered parking and an uncovered fifth floor. It is a quick walk via the Pedestrian Bridge into the terminal. The garage has both short-term and long-term parking options, so you can park for as long as you need. Keep in mind that parking rates for the Terminal Garage can be higher than other options.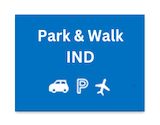 Park & Walk IND
Park and Walk Lot is approximately an 8-9-minute walk to the terminal. No shuttle service is available from this lot to the airport. The rates are much cheaper than the Terminal Garage, although still more expensive than Shuttle services.
Car Parks with Valet Service
Valet Parking is ideal for business travellers who want to save as much time as possible. You do not have to wait for a shuttle, search for a parking place, or walk a far distance with your luggage. Indianapolis Airport Valet Parking is available on Level 3 of the Terminal Garage, just a few steps from the airport. The only downside that this is the most expensive option for parking at Indianapolis Airport.
Arrival: You drive to the valet zone of the chosen car park and drop off your car here. After a short inspection you can make your way to the airport and a driver will ensure that your car is parked.
Return: You call the car park to indicate that you have landed again. Then walk back to the valet zone and the parking will ensure that your car is ready on arrival. These valet pick-up zones are a maximum of 3 minutes' walk from the airport.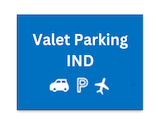 IND Valet Parking
For those looking for the ultimate convenience and luxury, Valet Parking is the way to go. Simply drop off your car at the Valet Parking area near the terminal entrance, and a professional valet will park it for you. IND Valet Parking offers covered parking spaces. Enjoy premium services that get you to the terminal in an instant.
Additional Information on IND Airport
Indianapolis International Airport (IND) is the primary airport serving Indianapolis and surrounding areas. The airport is located approximately 16 miles southwest of downtown Indianapolis and has a variety of parking options available for travelers. IND Airport served over 9 million passengers in 2019, making it the largest airport in Indiana and the 41st busiest airport in the United States. The airport offers nonstop flights to over 50 destinations across the United States, Mexico, and Canada, with major airlines such as Delta, American, Southwest, and United serving the airport.
Terminals at Indianapolis International Airport
The IND airport has one main terminal building that is divided into two levels, with the arrivals area located on the first level and the departures area on the second level. The terminal has a modern design with high ceilings, ample natural light, and plenty of amenities for passengers. The terminal at IND is divided into two concourses: Concourse A and Concourse B. Each concourse has its own security checkpoint, and passengers can move between the two concourses without having to go through security again.
Concourse A has 20 gates and serves airlines such as American Airlines, Delta Air Lines, and Southwest Airlines. This concourse features a range of dining and shopping options, as well as a United Service Organizations (USO) lounge for military personnel and their families.
Concourse B has 19 gates and serves airlines such as Alaska Airlines, Allegiant Air, and United Airlines. This concourse also offers a variety of dining and shopping options, as well as a Delta Air Lines Sky Club lounge for eligible passengers.