Car Parks with Shuttle Service
Options for car storage near Ontario Airport provide shuttle services that are the most affordable, and therefore recommended for budget conscious travellers looking to park their vehicles for one day or more. As these parking lots are outside of the airport, the car parks benefit from lower rental prices for their sites and can offer ONT Airport parking to customers at a better rate. Customers simply park their vehicle at the car park, check-in at the reception desk, and then take the complimentary shuttle bus to the airport. On their return, they take the bus back to the parking lot to collect their car. Park and Ride facilities are a great way to save money on Ontario Airport parking. They are located off-airport property and provide a free shuttle to bring travellers curbside of the terminal. Their off-site location means they can charge low competitive daily rates and you don't need to worry about the hectic traffic at the airport.
Arrival: On the day of departure, simply drive to the address of the chosen car park. You can park your car here and you will then be taken to the airport as quickly as possible in one of the shuttle buses from the parking lot.
Return: On the day of return, after landing, contact the car park by phone, then a shuttle bus will be driven to the airport to pick you up and take you back to the car park.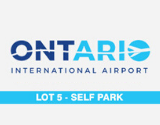 Ontario Airport Lot 5
Ontario Airport Lot 5 is a great choice for parking at ONT Airport. The complimentary shuttle arrives every 5 minutes and it only takes 3-5 minutes to travel to the terminal. At Lot 5 ONT, youwill park your own car and keep your car keys as well. The secure car lot will ensure that your car is left in good hands.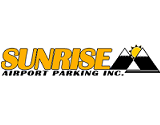 Sunrise Airport Parking
Sunrise Airport Parking is a great option for ONT Airport parking. It is open 24-7 and has parking attendants available around the clock to protect your vehicle. The journey from Sunrise ONT to the airport terminals only takes 5 minutes.
Car Parks within Walking Distance
There are several options available for those looking for ONT parking within walking distance. With on-site parking you can park just a few hundred metres away from the airport and walk to your terminal. Convenient, but often at a cost! The parking structures are completely covered and patrolled regularly by airport security. Ontario Airport is composed of nine terminals - eight domestic terminals and one international terminal. Travellers should know their departure terminal before parking in order to choose the parking garage nearest to their gate. It is a good idea to write down the parking information so that it is not forgotten upon return. The parking garages take both cash and card. Below is a summary of the appropriate parking garage to use depending upon the departure terminal.
Arrival: You simply drive to the car park. On arrival, enter your personal entry code and the barrier will open. You will receive this entry code as an attachment to your reservation confirmation.
Return: You walk back to the car park, get in your car and leave the Ontario Airport car park using the same personal code.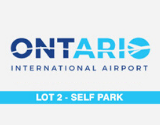 Ontario Airport Lot 2
Ontario Airport Lot 2 is a super easy and convenient car lot for anyone looking for simple and fast parking at ONT Airport. Lot 2 ONT is less than a 2-minute walk to Terminal 2. All you have to do is park in the secure lot and walk straight across to check-in for your flight.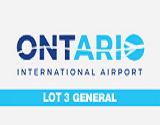 Ontario Airport Lot 3
Ontario Airport Lot 3 is another great choice for parking at Ontario Airport. Located in between Terminals 2 and 4, Lot 3 is just a short walk to either terminal. For a super easy parking and travel experience, then choose lot 3 when parking at Ontario Airport.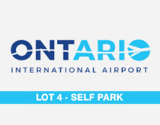 Ontario Airport Lot 4
Ontario Airport Lot 4 is a great choice for anyone searching for Ontario Airport Terminal 4 parking. Lot 4 is less than a 2-minute walk to Terminal 4 and is located in a secure parking facility to ensure the safety of your vehicle.
Car Parks with Valet Service
Valet airport parking allows you to drop off your vehicle at the airport and head straight to the departure gate, making it a great option for overnight parking ONT. A driver will meet you to collect your car keys and then park your car for you. On your return, they will drive your car back to the airport and meet you. Ontario Airport Valet Parking is in high demand with business travellers because of the convenience of parking directly curbside at the terminal. Simply drive up, park, and relax!
Arrival: You drive to the valet zone of the chosen car park and drop off your car here. After a short inspection you can make your way to the airport and a driver will ensure that your car is parked.
Return: You call the car park to indicate that you have landed again. Then walk back to the valet zone and the parking will ensure that your car is ready on arrival. These valet pick-up zones are a maximum of 3 minutes' walk from the airport.
Terminal 2 Valet
Terminal 2 Valet is one of the most convenient parking options at Ontario Airport. Terminal 2 Valet ONT is located curbside at ONT Terminal 2. You can easily drive up, drop off, and fly off with ease when you choose valet parking at Ontario Airport with terminal 2 valet. The car park is fully monitored 24/7 to ensure that your vehicle is left in good hands!

Terminal 4 Valet
Terminal 4 Valet is located curbside at ONT Terminal 4 and is one of the best car parking options at ONT. Ideal for business travellers and those looking for an easy travel journey, Valet parking at terminal 4 ONT is a great choice for quick and simple parking. All you have to do is drop off your vehicle while one of the valet drivers parks it in the secure garage.